Patient advisor Gordon V: "Cancer is the great unifier"
Feb 2, 2018
Cancer presents many challenges to patients and their families, the most difficult of which vary from individual to individual. For Gordon V., the worst moment was seeing his mother's reaction when he told her that instead of having a simple hernia, he had been diagnosed with testicular cancer.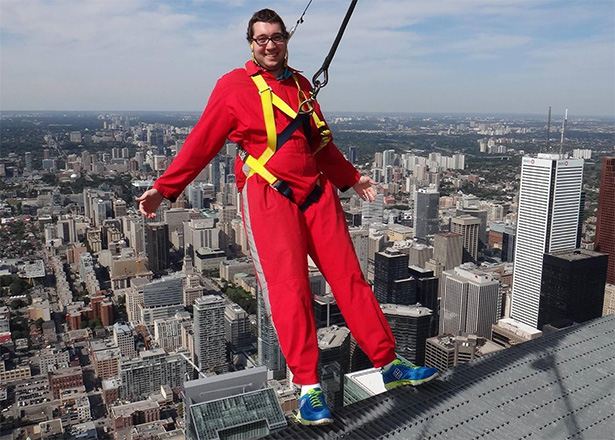 Just 21 years old at the time, Gordon considers himself fortunate to have caught the cancer early and to have had a relatively smooth and positive experience with the cancer system through his surgeries, chemotherapy and recovery.
One of the reasons he wanted to become a patient and family advisor (PFA) with CCO was to share his insights about what went well. 
His mother, on the other hand, has a very different perspective as a caregiver, which she shares as a PFA at the hospital where Gordon received his treatment.
"She was very troubled by the way I was diagnosed, gaps in communication and a delay in pathology results. She saw negatives where I just accepted the process," he says, adding that their differing views of the same experience have led to some interesting family discussions.
Creating new connections
As a younger-than-average patient, Gordon (who is now 26) offers a point of view that is also somewhat unique among our patient and family advisors.  
"Young people have different lifestyles, different schedules, different rehabilitation and mental health issues than older patients," he says. He would like to work towards developing strategies that specifically target this population—for example, connecting patients to services and resources through their mobile devices or social media.
In their work, CCO's patient and family advisors share their perspectives to help deepen the understanding of experiences and needs across Ontario's healthcare system.
Finding the time to participate in these PFA activities is definitely challenging for Gordon. Not only is he working towards a joint law and Masters of Business Administration degree at the University of Toronto Faculty of Law and Rotman School of Management, he also tutors first-year law students and manages student volunteers who provide pro bono advice to artists in Toronto.
"I don't have a lot of spare time, but being a PFA is important to me so I make the time," he says.
A bigger picture view
As law/business student, Gordon is particularly interested in the bigger, behind-the-scenes view of the cancer system.
To make the best use of his time as a PFA, he has read the fourth Ontario Cancer Plan and other CCO materials, and hopes to have the opportunity to sit on panels or meet informally with clinicians, researchers and other stakeholders. "I think the more PFAs understand about the healthcare system, the more effectively we can contribute."
Most of all, he has enjoyed meeting and working with PFAs from across the province.
"We are very different, but we all share something in common. Cancer is the great unifier," he says.
---
Have a question about this blog? Email us at publicaffairs@cancercare.on.ca