Human Touch Awards: Meet 4 of this year's nominees
Nov 6, 2017
Each year, the Human Touch Awards celebrate the unsung heroes working and volunteering in the cancer and kidney healthcare systems across the province. The 2017 awards were handed out in April.  Read more about this year's recipients. 
On our Facebook page, we've been profiling many of the volunteers and staff who were nominated for this year's awards. Meet four of those nominees here, and keep checking back for more!
---
Dr. Croke has many educational accomplishments, as well as deep clinical expertise and leadership experience. But what makes this radiation oncologist exceptional is that she sees her patients as people first.
She shows a genuine human touch in how she talks to people and in her ability to be present and in the moment with patients and families. They have described her as gentle, kind and compassionate.
Colleagues, on the other hand, call her an amazing doctor, mentor and teammate. Dr. Croke is a team player in every way, ensuring that all necessary staff are brought together to build a multidisciplinary team for patient care.
Dr. Croke has also devoted much of her time to lead research. This includes evaluating the accessibility and feasibility of including a patient-reported outcomes measurement tool into routine clinical practice in cervical cancer management. 
---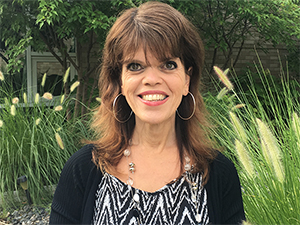 Linda is often the first point of contact for people who come to The Hospice of Windsor and Essex County for support, and she has the special ability to console them during their most difficult moments.
It's not a skill she's learned from training, but one that reflects her heart, her passion and her empathy for the people she serves.
At the Hospice, Linda handles the promotion of supportive and educational community outreach services. She makes it her personal responsibility to ensure that no person feels alone and that everyone receives integrated care.
Throughout her 33-year career at the Hospice, Linda has showcased her values, her commitment to compassionate care, and especially her willingness to go above and beyond in service to others.  
---
As a social worker, Sarah provides exceptional emotional support for renal patients.  
Her commitment to ensuring that all patients have what they need to succeed in their care is what makes the difference in the lives of patients.
A renal patient says Sarah's impact is profound.
"Sarah helps her patients win at life," said the patient. "She works with every patient's care team, such as doctors, nurses, and pharmacists, to ensure every patient has what they need to be successful – either on dialysis or pre-dialysis. Every day she makes a big difference in the lives of the patients she sees."
In addition to her daily role, Sarah often takes it upon herself to organize or participate in extra activities that help support patients and often brighten their day. 
She is known to organize holiday parties, participate in fundraisers, and be available for her patients during their care, whether they travel or receive it at home.
---
Dr. Monique Dostaler, General Practitioner, Oncology, Bluewater Health
Dr. Dostaler is committed to improving her patients' quality of life. She has a way of helping patients and families focus on the positives no matter how small, even in the darkest times.
The general practitioner in oncology at Bluewater Health is always genuine with patients and families, making them a top priority. 
As one patient said: "Dr. Dostaler works along with me, asks for input, thoughts and opinions, and – very important to me as a patient – she listens." 
Over the years, she has been a leader in introducing programs and initiatives that improve the patients' experience.
She advocated for the establishment of a pain and symptom management clinic at Bluewater Health, and promotes the use of symptom assessment tools in the oncology unit.
She also been a key facilitator for integrating the palliative care philosophy into the oncology department and has worked collaboratively with the oncology team to establish this model of care.
---
Questions or comments about this post? Contact us at publicaffairs@cancercare.on.ca